How do I care for my apparel?
A special solution is used in the printing process that may have a slight scent. This should disappear after the first wash.

When washing your apparel for the first time it is recommended to wash in cold water and hang to dry. Do not iron directly on the design as this may cause damage.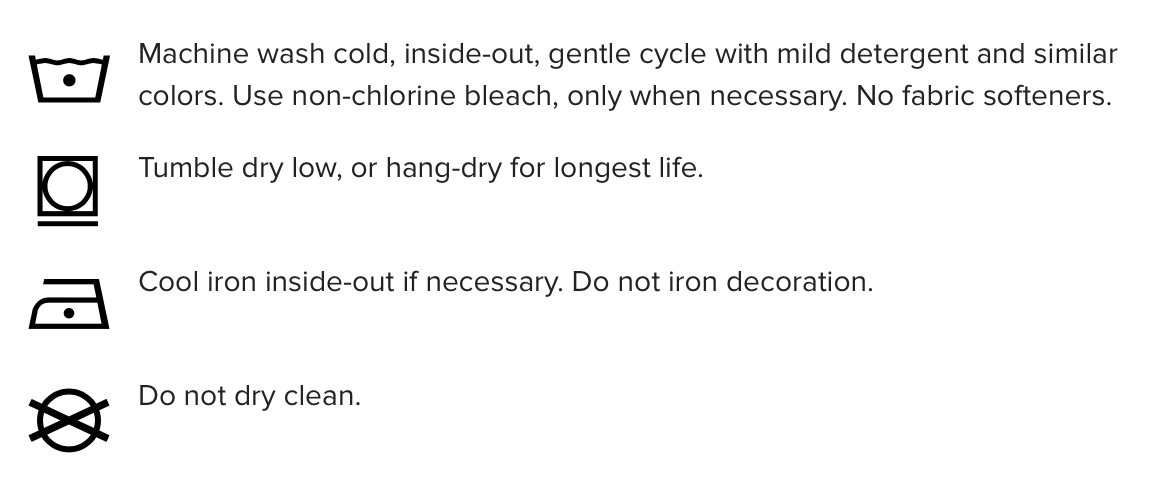 How is my order made?
Print on demand is an efficient way for small start-up companies to manufacture high quality products without the intial costs and storage of having product on hand. Because manufacturing facialities are located all over the world, this also means that some of our products can be shipped out to you quicker than others depending on your location.

While this is our current model, it may not always be as we continue to evaluate what works best for our business and customers. Every product listed in this store was ordered as a sample and vetted for quality by our team before being added to the shop. 
Why is my order coming in multiple shipments?
As mentioned above, our products are made using print on demand drop shipping. Because of this, your items are shipped out to you right after they are made. Some products take longer to manufacture than others. Please refer to the tracking link you are supplied in your confirmation email to check the status of your shipment. 


I received a wrong/damaged product, what should I do?
We're so sorry if the product you ordered arrived damaged. To help us resolve this for you quickly, please email us at [email protected] within a weeks' time with photos of the damaged product, your order number, and any other details you may have about your order. We'll get back to you with a resolution as soon as possible!
How do the T-shirt and racerback tank sizes fit?
Measurements in our Sizing Guide are provided by the manufacturer. If you are unsure about the fit in our sizing guide, compare the measurements to a t-shirt or tank top your currently own. 
What if I order a shirt and it doesn't fit me?
Please make sure you refer to our Sizing Guide before you make your purchase. If you are between sizes order the next size up. We do not accept returns on apparel due to our current print on demand manufacturing process. Exchanges on apparel can be made in the case of defect or quality issues. Please see our detailed Shipping & Return Policy for more details.
What if my order arrives damaged or is lost by the carrier?
Little Brushwood Designs is not responsible for damaged or lost items due to carrier or delivery error. Please ensure that you are providing a correct and complete shipping address when you place your order. 

My order is marked as delivered but I haven't received it yet.
Sometimes packages can be left in an unexpected location at your address so it's worth checking up on that. Please also check with your neighbours and local post office before hand as sometimes packages have been left at those locations instead.